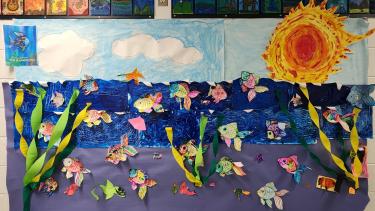 Principal Blog for May 26
May 26, 2023
Good Afternoon Brent Kennedy Families!
Today at our assembly we celebrated the students and teachers who participated in the Talent Show.  What an impressive show it was!  We also congratulated Charlotte Robinson and Brandyn Zoobkoff for winning the Cursive is Cool Writing Contest in the category of Creativity, for all of Canada and the United States!  Way to go, you two!
The Multi-age class reminded us that there is a Tabletop game night on Friday, June 2 from 5-8 p.m. in our gym.  Admission is free and there will be door prizes to be won. In addition, the PAC will be running the concession and there will be a game trading table.
Our lending library was installed earlier this week at the front of the school.  The students are loving it!  Please feel free to leave a book or take a book!  Special thanks to the PAC for purchasing that item and setting it up for our school and community to use!
Please remember this coming Monday, May 29, there is no school as this is a Professional Development Day for teachers. 
On Wednesday, May 31, we will be hosting our first of two Welcome to Kindergarten events.  We still have many spots available in our Kindergarten classes for next year.  If you or you know of a family who has a child that will be turning 5 by December 31, 2023, they are welcome to register.  Please pop into the school to sign the forms and provide the required documentation. 
Wishing you all a super fabulous weekend!
Mrs. Kooz