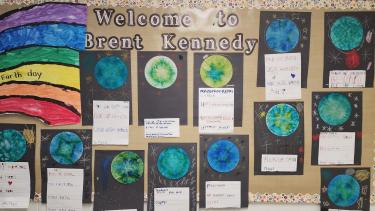 Principal's Blog for April 28
April 28, 2023
Good Afternoon Brent Kennedy Families!
Last full week of April!  Our school community is certainly enjoying the warmer weather.  We even had a visit from a group of elk this morning in our field.
Hopefully by this time, your child's teacher will have connected with you regarding their point of progress as we enter the last stretch of schooling for the year.  If you have not heard from your child's teacher, please make sure to contact him/her. This time of year, school begins to ramp up.  Lots of activities are being planned to include Fun Day, Grade 6 Moving Up Ceremonies, BK Talent Show and Welcome to Kindergarten.  Please stay tuned for those dates to come out over the next couple of weeks.
This week we said farewell to Mr. Ty Smith who replaced our prep teacher, Ms. Heather Bury, during her absence.  We look forward to having Ms. Bury return on Monday!