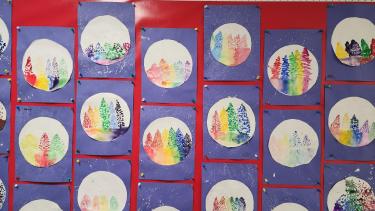 Principal's Blog for February 16
February 16, 2023
This week we have continued with winter activities.  The only ones remaining are Nordic skiing sessions with the primary students in Nelson.  The students have had amazing time and we are grateful for our parent volunteers.  Please remember the volunteer forms were sent home via email earlier this week. I understand there has been some confusion and that's ok.  Essentially, volunteer forms need to be filled in for your safety as well as ours and the students.  Volunteers must provide the completed forms as well as agree to a criminal record check.  This fee will be covered by the district.  All volunteers must complete the School Volunteer Package.  If you are driving students on fieldtrips, there are other forms for that which are completed separately.  There will be a spring orientation for all interested parents in the Spring.  If you have any questions, please do not hesitate to contact the office. 
A big thank you goes out to our PAC for the preparation and organization of the Cake Bingo last Friday!  It was estimated that there were 220 people in attendance which is amazing!  Through the concession sales and silent auction, the PAC was able to raise $2800 which is to go back into the school.   What a wonderful way to bring the school community together.  There are already talks about hosting another similar event.   A special thanks to all of our sponsors!
We are noticing an uptick in illnesses here at school including cases of Covid.  Please keep your child at home if they are sick and not able to perform regular daily activities.  We don't not want excess germs being spread and other children getting sick.  Thank you for your understanding.  Some students have many lingering symptoms, and if that is the case we don't want them to miss out on too much school work, so please speak to your child's teacher. 
The Valentine's dance as a huge hit, so much so that the students want to have one every month!  It was great to see the students, and teachers,  having so much fun.   Next Thursday, February 22,  is Pink Shirt Day.
Wishing you all a wonderful Family Day weekend.  Please remember there is no school on Friday, February 17 or Monday, February 20.
Warm regards,
Mrs. Kooznetsoff